Jun 29, 2018 03:46 PM Central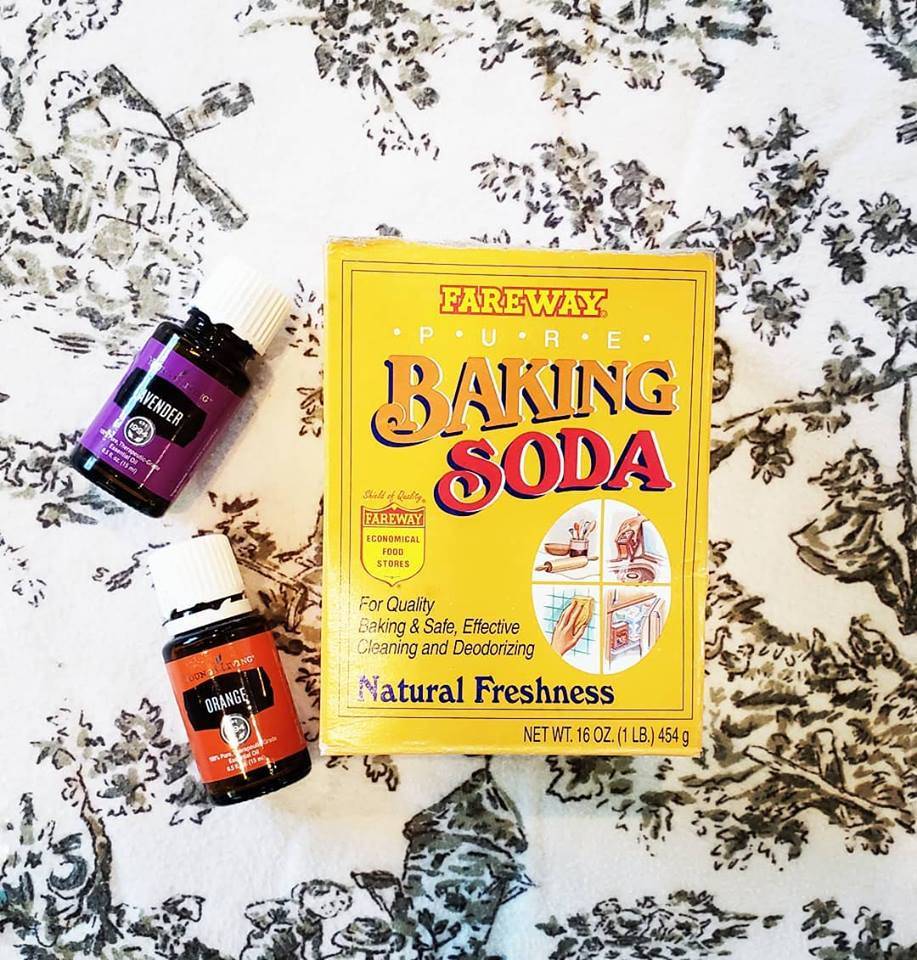 If you have little hands around your home, it's so important to keep your carpets clean. For us, it seems like we are always vacuuming our home!
We have an inside dog too and after a long winter of being cooped up, my rug was getting a little dirty smelling. I have little hands that play on the floor and Oaklyn is starting to roll over. When she starts crawling I want the rug to be as clean as possible without using nasty chemicals to "clean" it. So I tried this carpet freshener with essential oils. It's so easy to make. I'm extremely happy with the results!!
I wanted a way to freshen our carpets AND deodorize them. You don't want to use the store bought carpet deodorizers that contain harsh chemicals and fragrances that never seem to leave. I certainly don't want my sweet babies crawling allover chemicals. Good ole baking soda on carpet, mixed with essential oils, works best.
Baking Soda Carpet Cleaner / Deodorizer
For my recipe, I'm using just three ingredients: lavender oil, orange essential oil and baking soda. (Simple, right?!)
Baking soda is very well known for its deodorizing properties and has been used by many to deodorize everything from refrigerators to bathrooms. Plus, it is easily vacuumed up which makes everything quick and easy!
Homemade Carpet Deodorizer
Ingredients
1 cups baking soda
5-8 drops Orange essential oil
20 drops lavender essential oil
Method
Combine baking soda and essential oils in a mason jar.
Cap and shake well to combine.
Apply sprinkle liberally to carpets.
Wait a few minuses. (you can also do this at night before, then vacuum up in the morning.)
Vacuum thoroughly. You may have to do 1-2 passes to get everything.
That's it! You now have a fresh smelling carpet that will leave your house feeling beautifully clean.
You don't have to use lavender and Orange, you can use any oil that you want. Purification is a very good choice to deodorize you could also do a more woodsy scent like Idaho Blue Spruce, Pine or Thieves. The options are endless have fun with it! Here are a few ides
Essential Oil Blends for Carpet Deodorizer
Summer Citrus
This blend is great to freshen and brighten your home.
10 drops lime essential oil
10 drops lemon essential oil
10 drops orange essential oil
Deep Breath
15 drops Frankincense essential oil
10 drops Peppermint essential oil
Walk in the Woods
20 drops Cyperss essential oil
10 drops Juniper essential oil
Spring Garden
15 drops Geranium essential oil
5 drops Rosemary essential oil
Herbal
10 drops Roman chamomile
10 drops Rosemary
10 drops Purification