Nov 30, 2018 09:50 PM Central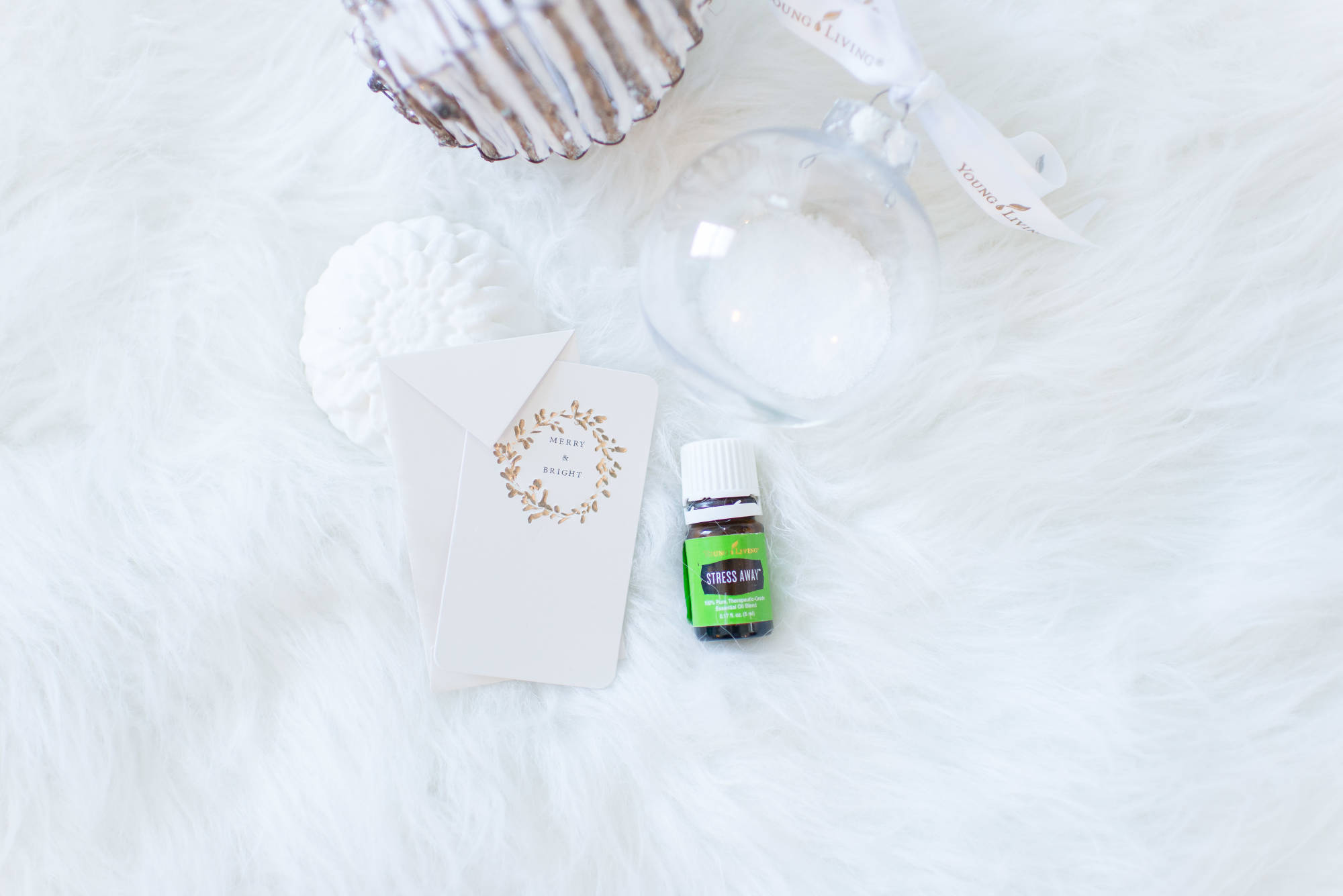 BATH SALTS
Bath soaks are an easy and useful gift. If someone doesn't have a bathtub they can use this as a foot soak.
The Soothing Bathtime Blend
3 cups premium quality epsom salt
30 drops of therapeutic grade essential oil
Optional add in: 1 TBSP sweet almond oil or gently melted coconut oil
Add 3 cups of epsom salt to a wide-mouth quart mason jar. TIP: Using a ½ cup measuring scoop makes it easier to pour into the wide-mouth jar.
Add 15 drops of each lavender and geranium, or 30 drops of Young Living Gentle Baby blend. (Use 5 drops essential oil per quarter cup epsom salt.)
Add your optional oil if you prefer.
Seal the lid and shake up the jar until oil is mixed with the salts. TIP: It's worth going to the trouble of mixing your epsom salt and essential oil rather than just adding each to your tub. Because oil doesn't mix with water, the epsom salt helps the essential oils disperse in the bath evenly.
Use ½ – 1 cup of the mixture in your bath. Take a deep breath. Soak for 20 minutes in very warm water. Enjoy and may this take you to bathtub bliss!
HOLIDAY TIP: Put bath salts and essential oils in a cute clear ornament for a simple yet effective gift.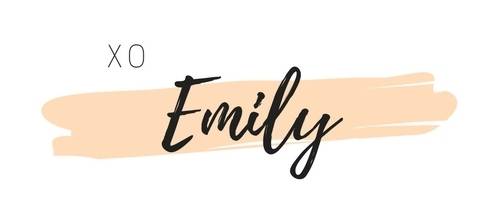 Oct 1, 2018 10:19 PM Central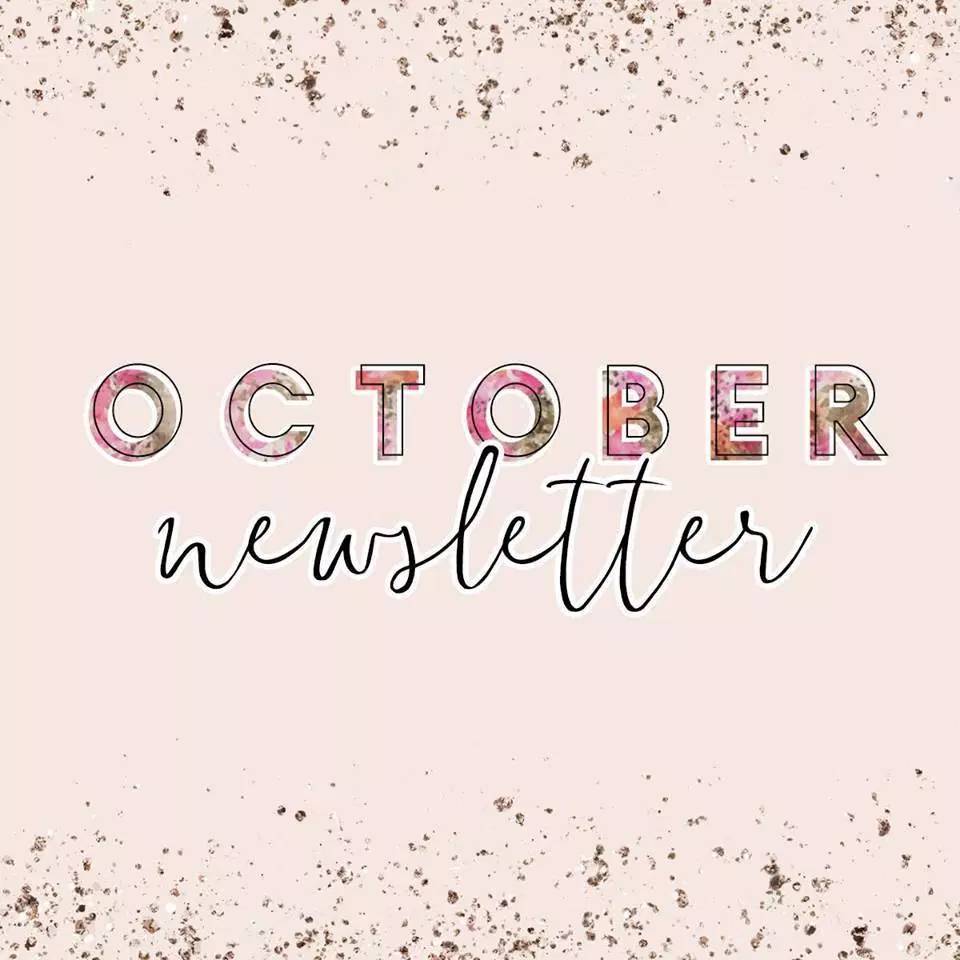 Happy October friends!
This month is always my absolute favorite. We usually have the best promos and the Holiday Catalog comes out! I can't wait for you to see it all. We have some exciting things happening this month too, so check it all out below.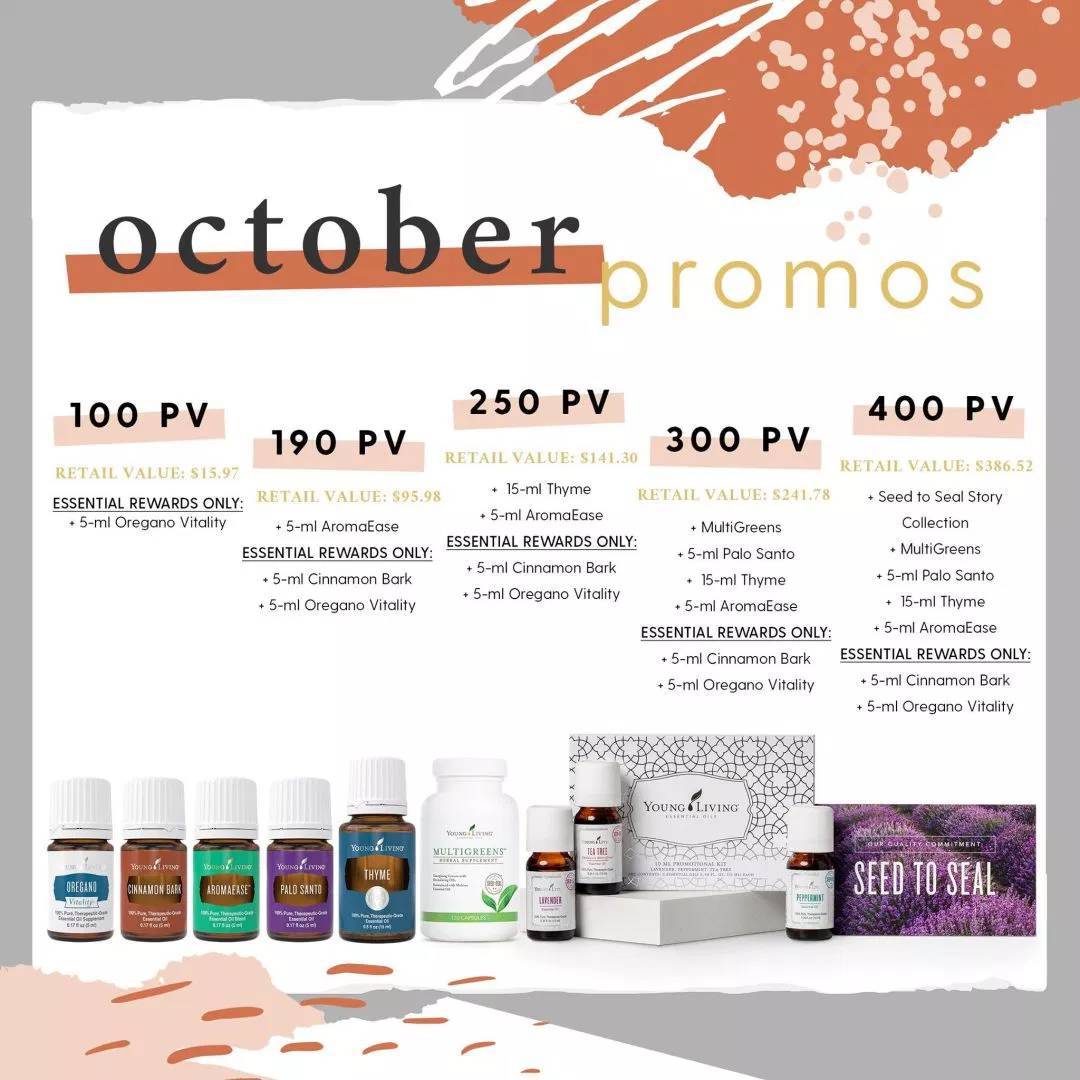 October PromosOh yes, you're seeing that right Friends that's a 400 PV Tier promo with a supplement and with yummy oils for fall….Young living is at it again with October Promos.
SO MUCH GOODNESS!!!!!!Want to learn more ? Read on!
Oregano Vitality (5 ml): This oil is a powerhouse for your wellness cabinet – supports the immune system, respiratory system, digestive system and even does wonders for the liver.
It is also a Raindrop Oil and you know – those are the oils that do all the things friends, so collect all the raindrop oils! Aromatically, this oil creates feelings of security. Any cooks in the kitchen? add this vitality oil to your pasta sauce or salads – it is quite strong so a little goes a long way. (Exclusive to Essential Rewards.)
AromaEase (5ml): This blend has a minty and calming aroma. Adding Orange to this in the diffuser is one of my favorite combos. Apply topically over the tummy for any tummy discomforts. This blend has lots of great oils for the digestive system such as peppermint (vitality) and Ginger (vitality). This is one we love to travel with and have on hand for the holidays with the extra eating we usually do. One of my favorites for early pregnancy morning sickness. ;)
Cinnamon Bark (5ml): Give me all the yummy fall diffuser blends with this oil. No scented candles needed for fall when you have your diffuser and some oils. Here are some fall diffuser blend ideas with Cinnamon Bark:FALL HARVEST – 1 drop Clove (free from September promos), 3 drops Cinnamon Bark and 4 drops Tangerine.
SNICKERDOODLE: (can I get an Amen?!) 5 drops Stressaway, 3 drops Cinnamon Bark.
PUMPKIN PIE: 5 drops Cinnamon bark, 1 drop Clove, 1 drop Nutmeg.
Also a Vitality oil, this oil supports the circulatory system, cardiovascular system, and digestive system. I know it's too good to be true that something can be part of smelling like a cookie and good for your digestion but it's real friends – and heck – free! WOOT!
Thyme (15 ml): A vitality oil this oils supports the cardiovascular system, and is great oil for brain health.
Palo Santo (5ml): This little bottle of goodness does so many things! It comes from the same botanical family as Frankincense so you know all the reasons why you love frank? You will love Palo Santo for that as well. Palo Santo is a great oil to diffuser to unwind from a crazy day.
Palo Santo means "sacred wood" so it is a beautiful oil to use for creating a more spiritual and sacred environment. I personally love to diffuse it with Pine, lemon, and a spruce oil.
MultiGreens: Y'ALL. Hands down one of my top fave supplements… I can't even handle it is free this month because I already order this monthly. If you are not on the MultiGreens train – you are missing OUT for real. OK so you want to get your read on for a hot second… because I've got a lot to say on this one.MultiGreens is a chlorophyll formula supplement that was created to boost vitality by working with glandular, nervous, and circulatory systems. MultiGreens is made with spirulina, alfalfa sprouts, barley grass, bee pollen, eleuthero, Pacific Kelp, and our essential oils. Y'all eating that stuff daily? Didn't think so…..
It is a natural, sustainable energy source with bioactive sea vegetables that increase vitality, nutrient dense bee pollen, essential oils to increase assimilation, and an excellent source of choline which is critical for energy production.
Bee pollen is loaded with tons of vitamins and minerals including potassium, calcium, magnesium, zinc, manganese, copper, and B vitamins. And that ELeuthero Root….amazing stuff – it boosts energy and reduces stress! (Double win!) It also strengthens lymphocyte function which strengthens the immune system.But what about those hormones and that thyroid which balance is crucial for maintaining good energy levels? Pacific Kelp is in there for just that! Pacific kelp supports thyroid function and helps to keep our hormones balanced and in check!
And our oils….infused with Rosemary (supports our endocrine system), Lemon (immune support), Lemongrass (supports the Digestive system), and Melissa (energizes the body and fights against natural occurring inflammation)….and check out the price point on Melissa…yeah…pretty sweet that we get to consume that oil in this supplement.
After taking this supplement I have noticed a HUGE improvement with my energy levels. To get a little more bang for my buck I take it with a shot of Ningxia and sometimes sneak in a Super B tablet! (I like to call that Trio the "Energizer Bunny").
Our Seed to Seal Story Collection: (extra Tier at 400 PV) When you spend 400pv this month you will get this collection of 10 ml oils that includes Lavender, peppermint, and Tea Tree. Three of our most used essential oils. What I love about this collection is that it comes in a small box and could be the easily gifted someone!!It's also a perfect "spa experience" in a box! This box plus some Epsom salts and a foot loofa and you've got yourself a little self-care essential oil infused experience for yourself or to gift.
MAKE SURE you are getting FREE SHIPPING with the brand new YL Go membership on your Essential Rewards order!!!!
https://www.youngliving.com/en_US/ylgo
If you're not on Essential Rewards, we have failed you miserably as your friends, and we are so sorry. Please fix that sadness. Here are some wonderful suggestions for boxes full of goodness you could be ordering through Essential Rewards.
More about Essential Rewards?
Check out why we are in love with our wellness subscription so much!
ER explained here
!
Our Essential Rewards program is AMAZING! You get a customizable wellness box sent to your door every month! You get free products, cheaper shipping, rewards points, loyalty gifts, and more. You can start or stop the program at anytime making this a stress free program!
I recommend trying our non toxic cleaning supplies, laundry soap, supplements, Ningxia Red (hello ENERGY), kids products, shampoo, make up, and more! You will be SHOCKED at how much these products make a difference for you and your family.
You can sign up on Young Living's website or call 1-800-371-3515!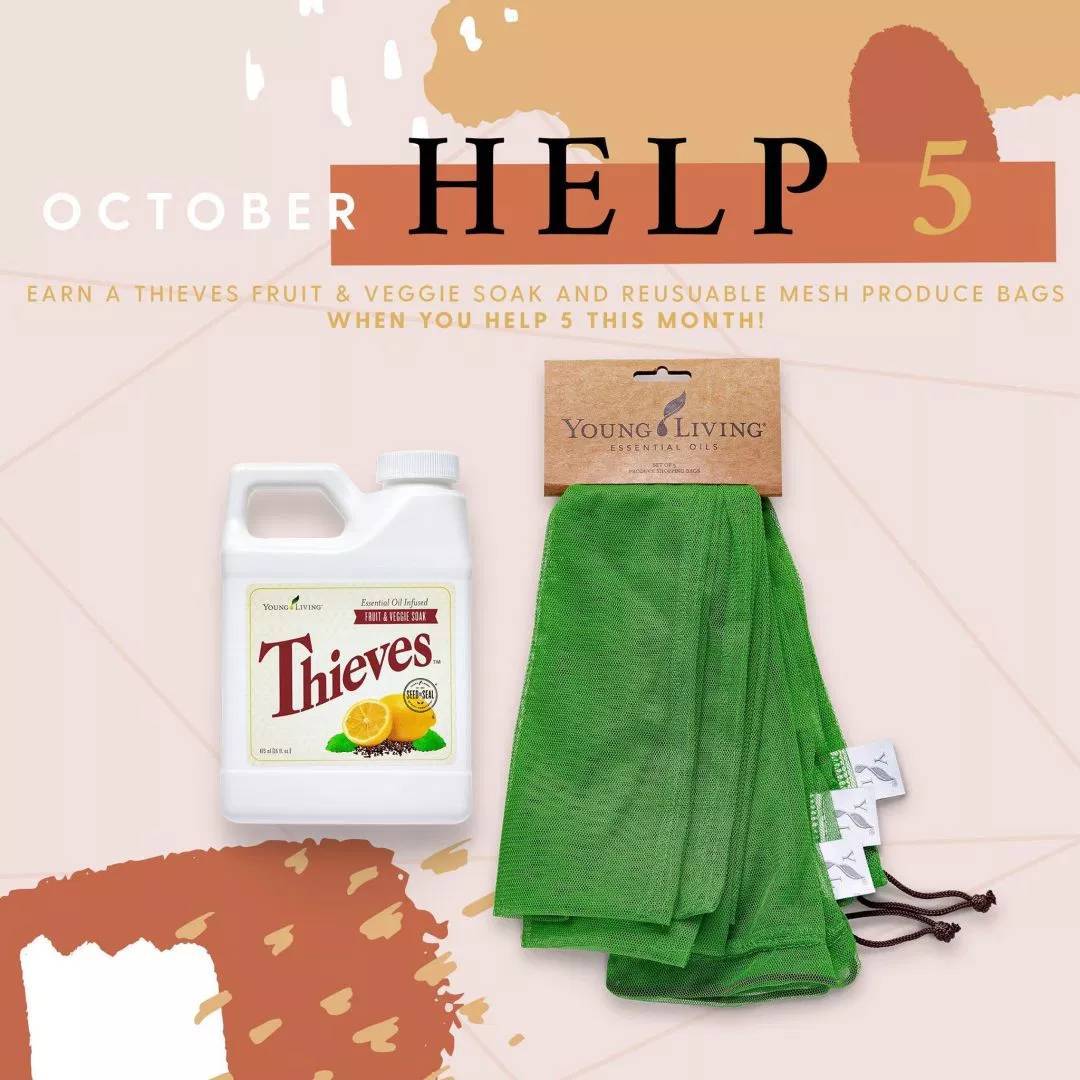 HELP 5 !!!!!I absolutely love love love that Young Living is doing this challenge / incentive!
—-What is Help 5?YL looked at the most successful people in the company, and while they might all have different stories, techniques, and perspectives… there was a common thread.+They are all enrolling new members and getting people on Essential Rewards. At least 5 per month! So now it's a challenge.Help 5 people to enroll with a PSK and/or start Essential Rewards and earn a point for each one!Can you imagine if you, each of your legs, each of their legs, and on & on were 'helping 5′ each month?
What would it look like if we all did it AND duplicated it among our teams?Pretty stinkin' awesome, that's the answer. The details:
– You enroll a new member with a Premium Starter Kit : earn 1 point A member you've personally enrolled places their first ever Essential Rewards order : earn 1 point Earn 5 points and you've got yourself an exclusive gift!(Yep. On top of your commissions, on top of a growing team, on top of the satisfaction of helping people change their lives!)
Who is going to Help 5 this month??
It all starts with a decision and a belief in yourself that you can do this.LETS DO THIS!"This month we're rewarding Help 5 efforts with a fresh perk inspired by the Young Living 5×5 Pledge and our goal of becoming a zero waste company in five years. Qualifiers will get a 16-ounce bottle of Thieves® Fruit & Veggie Soak and five YL-branded reusable mesh produce bags that are great for shopping and storing fresh fruit and vegetables without waste!"

Each One, Reach One
Sharing made easy.
This month, I want to encourage you to share your oils with ONE person. Aren't you glad your enroller shared with you?
If we all reach ONE person, we will help so many more people who are struggling to find wellness, purpose, and abundance.




How to hare your oils with others. Use your oils in front of your friends or family.
Share a sample with a friend in need.
Tell your mama, sister, brother, kids, cousin, or neighbor that they NEED their own kit!
Listen to what people are telling you they need. Use your reference materials to find some suggestions about what they can use. Show them the value of the kit. Give them your very own member number so they can order their own PSK.When you help a friend get a PSK, you will get a $50 "Thank you" check* for spreading the love. This is a great way to help others and get some extra holiday money.

The Young Living business opportunity has blessed many families, even families on this very team. They are receiving monthly paychecks that cover their YL products, groceries, car payments, and even mortgages. I didn't think I would ever do this business and it has not only been a blessing for me but it has also changed the lives of those I have shared my oils with and helped order their very own Premium Starter Kit.

I want to make sure you have seen the NEW 2018 Income disclosure statement. Here is a snapshot.

Yes, those are MONTHLY incomes.

Find the full Income Disclosure statement HERE.
If you need help finding your member number, I can help.
*You must spend 50PV during the same calendar month that your new member orders the PSK in order to receive your $50.
Business oil of the month is the MOTIVATION blend!
Any guesses why?
The holiday season is almost here. Find motivation this month and on into the holiday season with the Motivation blend.
Feeling unmotivated, lazy, or a little down with the cool weather change? Diffuse Motivation to turn it all around and be more productive! #HolidayShoppingDoneEarly #FallCleaningComplete #LeavesRakedAndBagged
If you don't have the Motivation blend yet, get it in your ER order STAT!
Diffusing Motivation is also perfect for those of you who are building your Young Living businesses. This is the busiest time of year for us! Diffuse it when you need a kick in the pants to get 'er done or need to stay on task.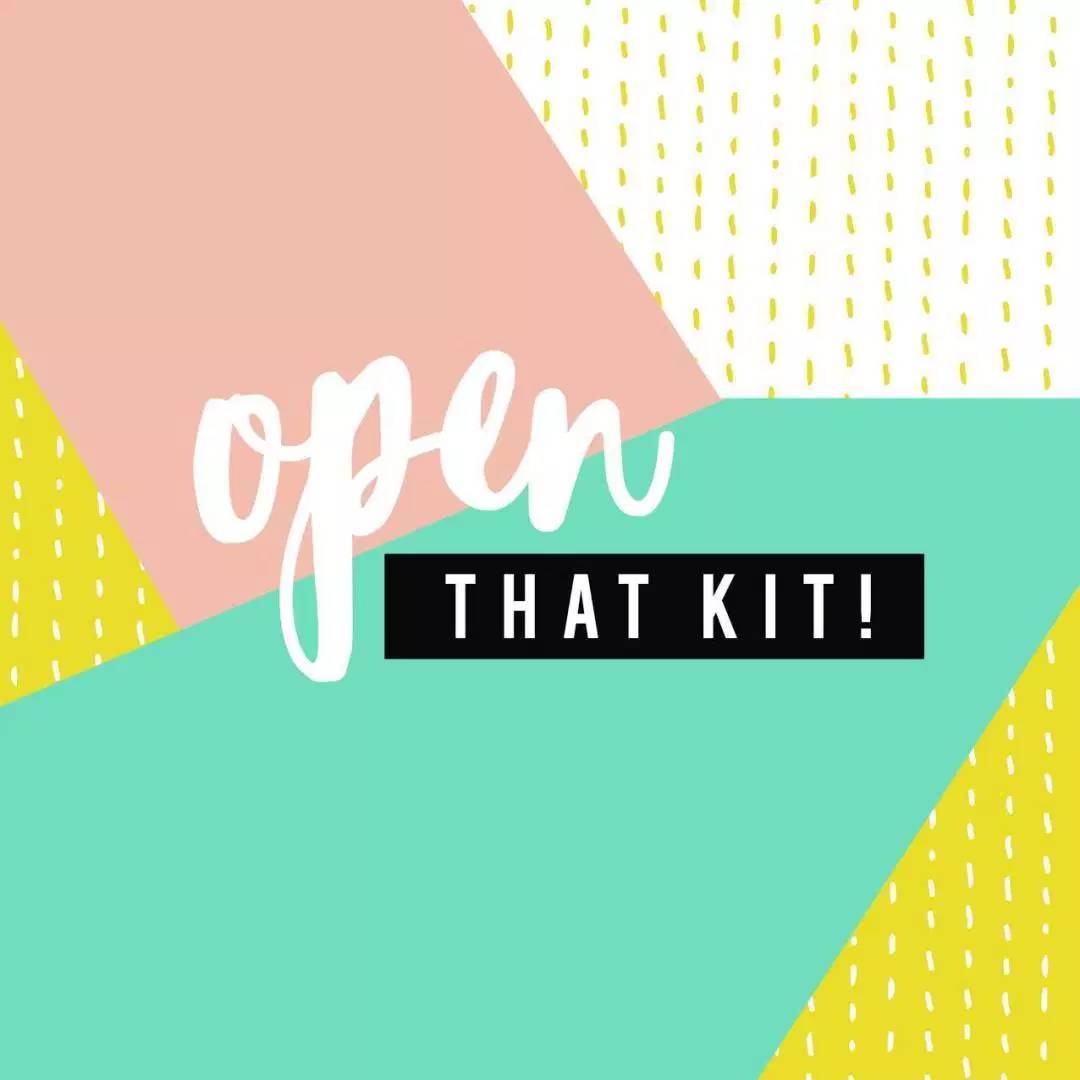 PREMIUM STARTER KIT JUST ARRIVED?
Inside this interactive walk through web page you can learn everything you need to know about your Premium Starter Kit! Password is teamcaseyleigh
OPEN THAT KIT!
Have you heard about Essential Rewards?
Check out why we are in love with our wellness subscription so much!
ER explained here
!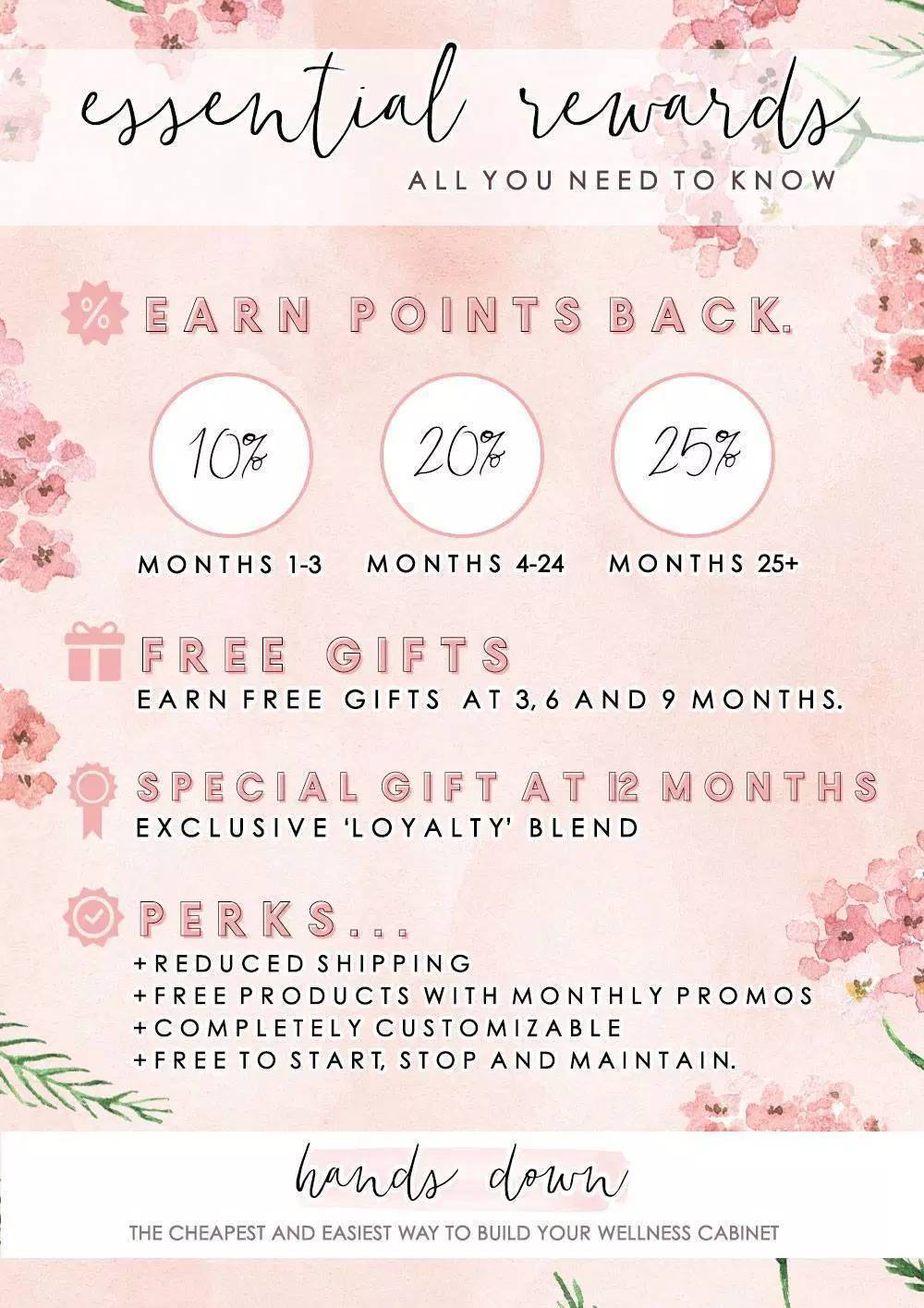 OCTOBER CLASSES
We would love to have you join us. This is FREE to anyone who wants to attend. All classes are at 7pm MST
Oct 4: Essential Oils in Everyday Life: 12:30pm at The Chocolate Season coffee shop - 16 E State St, Algona, IA 50511
Oct 26: Girls night out! - 5:30pm Pizza ranch with class following supper. 405 State St. Garner Ia 50438
I hope everyone has a fabulous October! We are here for you always!
Love,
Emily Nieman